I could not stop laughing while reading this piece of news .
It's utterly hilarious.
Why? Because so many people aka 'the righteous ones' considered the 'poor gypsies' not being treated fairly. Actually, to be politically correct we should call them 'travelers' not use a derogatory name like 'gypsies'.
Now you can have them in your backyard and by all means, please treat them fairly.
I took the liberty to extract some lines from the article and just comment them.
"Sandbanks is said to be the fourth most expensive place to live in the world. Seafront mansions sell for up to £10million and homeowners often fly in and out in helicopters"
I guess they may have to reevaluate the value of the proprieties.
Sandbanks


The new additions brought up some ethnic touch:
"Cavalcade of lorries towed the caravans into place in the genteel village of Canford Cliffs on the outskirts of Poole, Dorset.
And within hours the new arrivals had tethered a pony to the main road and strung up several lines of washing. Residents living near the car park say dogs are running freely around the caravans and motor homes which have been parked near to the mansions of the super rich"
A pic for all animal lovers: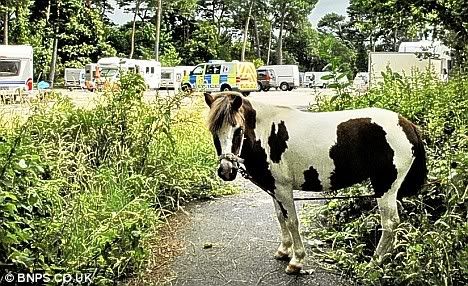 Ignorance is bliss … but only sometimes. In this case it's plain idiotic. How dilusional these Brits can be?
"'Our officers have visited the site and will continue checks to ensure the area is kept clean and tidy. It is our policy that unauthorised encampments will be tolerated as long as there is no significant impact on the local community"
Other residents are a little bit less politically correct:
"'It is utterly outrageous. These people are allowed to just show up, set up home and make a mess with the taxpayers picking up the bill when they move on."
The lady still believes that they are going to move on… told you the Brits were dilusional.
Hey, maybe the gipsies are just sport lovers and want to be part of the sand polo championship about to begin.